Significance Of Regaine For Hair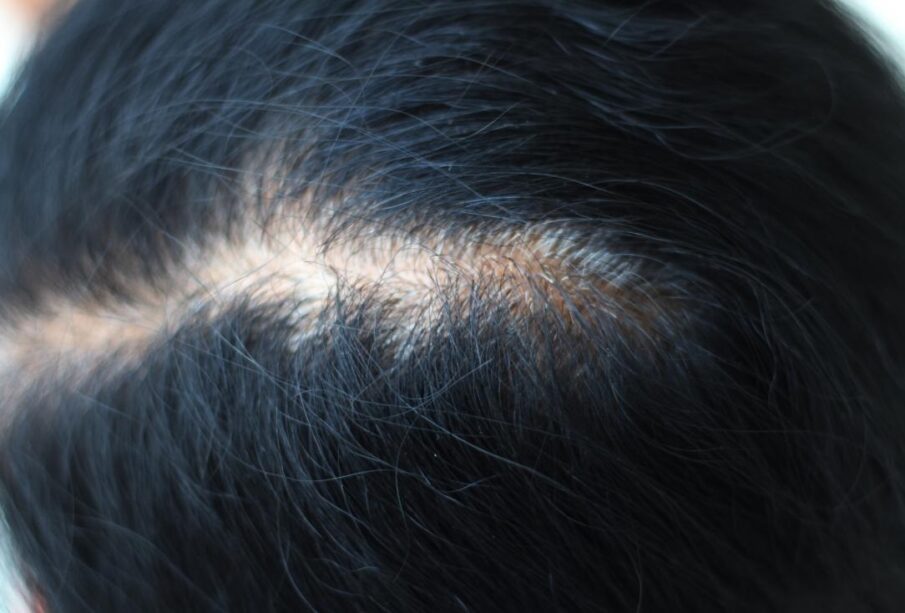 The average adult head has 100,000 individual hair strands, and as part of a healthy regrowth cycle, most people lose between 40 and 120 of these strands each day.
In 95% of cases, the cause is hereditary and is known as male pattern baldness or androgenetic alopecia. However, it is also possible that this loss could be caused by a medical condition, prescribed medication, poor nutrition, poor hair care techniques, or extreme stress.
With genetic hair loss, your body's genes and hormones decrease your hair follicles, impairing their capacity to produce new hair. The cycle of hair growth gradually gets shortened over time as a result of some scalp follicles' progressive shrinkage. There is no further growth of hair as it gets shorter and thinner.
Regaine is not recommended for hair loss caused by other, non-hereditary types of alopecia, such as alopecia areata, which causes bald patches to appear on the face and body, or hair loss brought on by a medical condition like chemotherapy. Consult a doctor for the same.
Some Facts About Hair Loss
Hair loss is a relatively prevalent problem. Hair loss affects up to 8 million people.
By the age of 35, 40% of males experience hair loss.
Hair loss is usually hereditary, and it can occur from either side of your family.
Stress can cause a temporary halt in hair creation. However, stress does not induce male pattern baldness.
Regaine's Mechanism On Hair
Regaine's main ingredient, minoxidil, revitalises thinning hair follicles, which eventually grow bigger and thicker hair.
The only over-the-counter medication with a clinically proven ability to aid in stopping further hair loss is minoxidil, which is the active ingredient in Regaine Foam and Solution. Regain hair can even stop the process and cause regrowth if applied twice daily. To stimulate and prolong hair growth, minoxidil works by improving blood flow to the hair follicles and enlarging their size and diameter.
Regaine Facts
Regaine has been shown in studies to help prevent and even reverse hair loss.
Regaine employs Minoxidil, the only clinically validated medication that is available without a prescription.
Minoxidil stimulates growth by increasing the availability of blood and nutrients to your hair follicles.
Results might be seen in as little as 16 weeks when used twice daily.
Extra Strength Regaine Foam
The first and only clinically validated foam hair loss therapy is Foam. It works by increasing blood flow to the hair follicles, which aids in the strengthening of existing hair and the stimulation of secondary hair growth. The simple foam takes very little time to apply, so it fits right into your everyday grooming regimen.
Aids in the prevention of additional hair loss and the regeneration of hair
Results may be shown in as little as 8 weeks.
Apply to your scalp twice a day, every day.
It applies easily and dries rapidly.
Is it odourless
Regaine For Women
Several factors will influence the outcomes of Regaine for Women, including:
Hereditary hair loss is prevalent in your family.
How long have you been losing your hair?
The nature of your hair loss condition
Your scalp's area of hair loss
Regaine for Women should be used correctly and as part of your daily routine for the best benefits. It should be applied once in the morning and once in the evening, around half an hour before bedtime.
Regaine for Women is approved to treat female hair loss in women aged 18 to 65.
Conclusion:
Thus, we have come to the end of this article and we have tried to cover all the points on why Regaine is important for both men and women. Many people have found Regaine minoxidil to be beneficial for hair growth. It begins to work instantly, but the actual results take 4 to 6 months to manifest. Minoxidil is safe for everyone, except for a few special conditions such as scalp lesions, pregnancy, and coloured hair. However, use caution when applying the medication because too much may irritate.